Simply Connected
emporiaSMART.4
The S4 is a smartphone designed for the times we live in. Not only is it compact and easy to use, but it also incorporates new features which are especially useful when we all need to be extra vigilant.

The very latest NFC technology (Near Field Communication) allows the phone to be used for contactless payment which is an important contribution to greater personal safety in these times of social distancing.

In addition, the S4 has a QR scanner pre-installed which makes it perfect for track and trace logging and a handy Magnifier app that is the perfect helper when you leave your glasses behind.

The 5 inch, high resolution, touch screen is perfect for carrying out all tasks, and the 13 megapixel main camera and 5 mp front camera are ideal for having video calls with friends and family using the pre-installed WhatsApp.

It is also IP54-certified (dust and splash-proof), has a replaceable battery and, like all emporia phones' it has an emergency button on the back, but this can be covered by a second back panel if not needed.

As with all emporia smartphones, the S4 also comes with our unique detailed training book which shows users how to confidently master their smartphone, learning at their own pace and using new features like contactless payments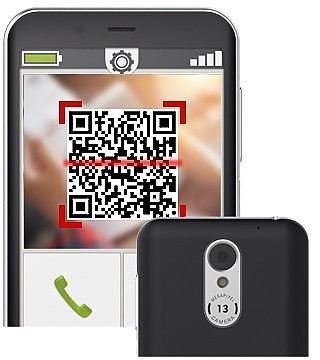 Integrated QR scanner
The pre-installed QR (Quick Response) scanner App is perfect for track and trace logging, or for linking to advertisements or websites. It is simple to point and click at any of the unique QR images you may see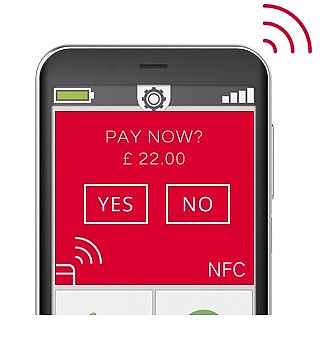 NFC for contactless payments
Near Field Communication (NFC) is a method of wireless data transfer. By adding details of your debit, credit or store cards to the App on your phone, you can make contactless payments anywhere you go in a more secure way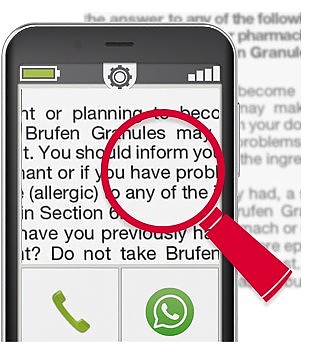 emporia Magnifier
The pre-installed Magnifier App is a handy tool for increasing the size of images or text that you might find difficult to read. If you have forgotten or mislaid your glasses, or are trying to read a menu in poor light, the Magnifier uses the phone's camera to view and enlarge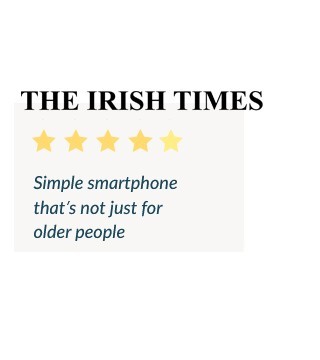 Irish Times emporiaSMART.4 review
Simple but not basic, the Emporia Smart 4 is a good option for those who prefer something a little simpler in their pocket.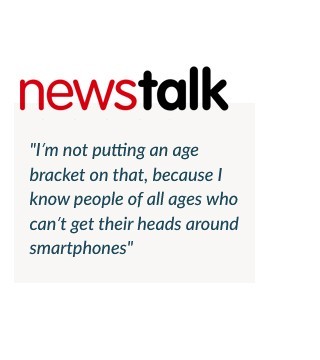 News Talk emporiaSMART.4 review
Newstalk's technology correspondent Jess Kelly has been testing the phone, and spoke to The Pat Kenny Show about what it has to offer.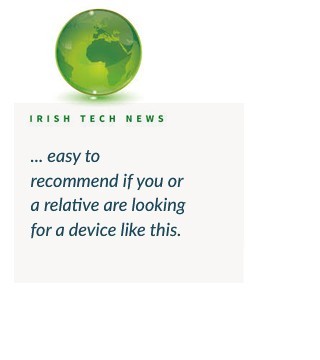 Irish Tech News emporiaSMART.4 review
The emporia S4 is a very well spec'd phone at its price point and includes a lot of features not often seen on phones like this.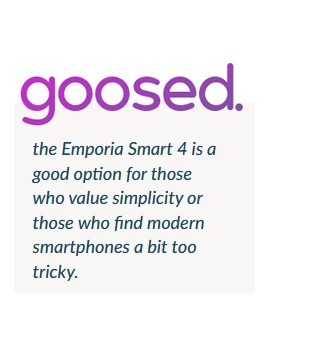 goosed emporiaSMART.4 review
the Emporia Smart 4 sports Android 10 in a phone that tries to find the balance between smart and simple. Something they do to great effect.
product information
Hearing aid compatibility
Key features
Equipped for NFC, comes with two battery covers,

Text input through voice option,

QR code reader, Magnifier function
Dimensions
138 x 66 x 11 mm